You are here:  

Events

Private Events
Private Events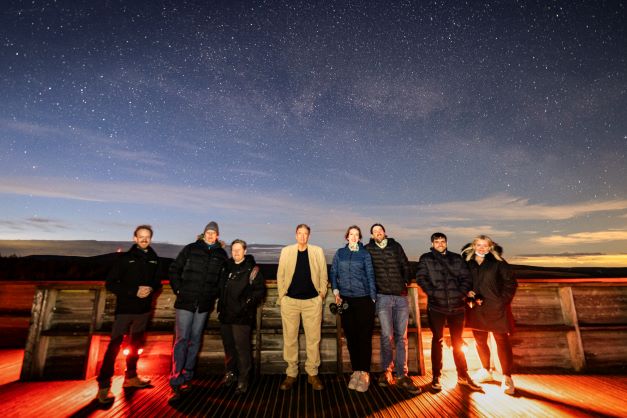 Kielder Observatory is available for hire for your group so that you can have a bespoke astronomy evening. We are a small facility so this means hiring the whole site for the duration and you'll have our team of experience astronomers on hand to ensure your visit is informative and inspiring. Timing will follow what we offer for public events which is a 3-hour time slot generally 8-11pm or midnight-3am on Fridays or Saturdays. The event will include a tour of the equipment, science talks in the classroom and plenty time using our fantastic telescopes if the skies are clear. We can offer a shorter 2-hour slot early evening at 4-6pm (seasonal variation) that will either be in daylight or darkness depending on the season. You can check twilight hours here: https://www.timeanddate.com/sun/@2655958
As we run public events every evening, generally at full capacity, we can only offer the main evening times where we have not yet taken bookings. So it's best to plan far in advance to ensure we have the availability!
Maximum capacity for our site is 36 guests at one time and we have ample free parking. We have no catering on site although 3-hour events will include a hot drinks break with a tea, coffee or hot chocolate for everyone. We have a small shop onsite that sells chocolate bars and merchandise.
Please note all observing is weather-dependent and our events go ahead whatever the weather (except when severe weather makes access unsafe). If it is cloudy then we have a well-rehearsed back-up plan of additional talks, activities such as handling real meteorites and we can bring the cosmos alive with a memorable imagery on our presentation screens. Full darkness will depend on the season, however we can make observations in twilight of brighter objects such as the planets or moon. Please note the moon phase also has an impact on how much you will see each night: https://skyandtelescope.org/astronomy-resources/astronomy-questions-answers/how-does-the-moons-phase-affect-the-skyglow-of-any-given-location-and-how-many-days-before-or-after-a-new-moon-is-a-dark-site-not-compromised/
External Events
Booking out the observatory and making the trip up to Kielder may not be an option for everyone, or your group may be larger than our capacity. We offer other services to make sure everyone can be inspired by the "Kielder moment". Most of our work is in the North East region, but for an additional fee we can travel to other regions and offer online options.
If you are in a dark sky area we can send an astronomer with a portable telescope to give an interactive workshop. This works best for smaller groups. We always ask for an inside space for the back-up presentation in the event of bad weather.
We can send an astronomer to come and do a presentation and Q&A session at your venue – there's not really a limit on audience size providing you have a large enough venue and projector equipment. This is usually an hour long and we've done talks in hospitals, schools, prisons and community groups.
You can book a digital session with an astronomer similar to the above, with presentation and opportunity for questions.
We can send our team out to your location with our exciting inflatable planetarium. Bookings are full days and involve sessions inside the dome alongside fun science workshops. This is great for schools with large halls, but we also have also taken our planetarium to shopping centres and museums!
We have a full range of interacitve workshops that we deliver to schools. These workshops can be adapted to all age groups, and we can even deliver some of them online too! Please see our education for more information on what we can offer schools
If you would like to enquire about booking a private event with us please download our Private and External Events Brochure here: Private and External Events Brochure
For any further questions and to book your event, please contact This email address is being protected from spambots. You need JavaScript enabled to view it..
Take a look at our reviews here!