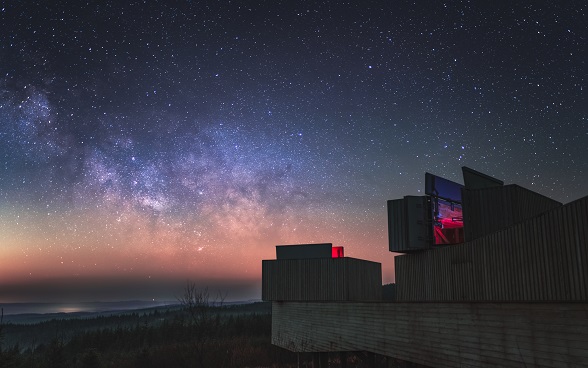 Chief Executive Officer
We are looking to appoint an outstanding and inspirational leader as Chief Executive Officer with a vision for growth and impact
We create opportunities for people of all backgrounds and abilities to experience moments of inspiration, revelation, wonder, and hope through observing the cosmos.
We aim to promote an interest in the science of astronomy, facilitating the education of the science of astronomy, and maintaining a world-class astronomical observatory in Kielder Forest in which these activities take place.
Our primary activity is public outreach, inspiring people with our love of the night sky. We do this via events at the Observatory, hosting thousands of people a year.
We also deliver one of the most significant STEM schools outreach programmes in the North East, visiting hundreds of schools and inspiring thousands of students every year and we provide pathways into STEM at all ages, with work placements, paid internships, teacher CPD, and a thriving volunteer programme.
Many of our staff (and our trustees) started as volunteers, and many have come to us straight from university.
Our current CEO has been in post for 3.5 years, successfully guiding Kielder Observatory through the pandemic, supporting a thorough review of our business processes and creating a happy, vibrant, high-profile and high-performing organisation poised for sustainable growth.
We expect our new CEO to build on this legacy, come to the role with a vision for growth and impact and have exceptional skills in:
Leadership: personal drive to maintain the organisation's momentum and its culture of learning and continuous improvement.
Governance: as CEO of a charity, role modelling the Nolan principles and having experience with good governance.
Advocacy and networking: skilful navigation of and contribution to a complex stakeholder and partner landscape, to maintain and grow our profile and deliver mutual objectives.
Operational management: a sound understanding of all aspects of regulatory requirements, from facilities management to H&S to HR tov budgets and more.
Strategic judgement: ability to foresee risks and outcomes and exercise good judgement and entrepreneurial flair in choosing courses of action.
Reporting to the Board of Trustees, the post's primary purpose is to fulfill the vision, mission, and charitable objects of Kielder Observatory Astronomical Society, implementing the agreed strategy, leading the team, supporting the Board of Trustees, ensuring good governance and regulatory compliance, and overseeing the efficient operation of KOAS's events, arts, education, and science programmes, and other activities as they arise.
Salary: £50,000 - £60,000
Benefits: Car Allowance, Flexible Working
Terms: Permanent Contract
Location: Prestwick Park, Newcastle upon Tyne (hybrid)
Peter Standfield
Chair of Board of Trustees
Apply Now
If you would welcome the opportunity to apply, please go to The Hiring Department
You will need;
A CV outlining your career history, achievements, and academic and professional qualifications.
A supporting statement (maximum 2 x A4 pages) demonstrating your motivation, skills, and experience and any other information relevant to the role.
Closing Date: Sunday 2nd July
Preliminary Interviews: Thursday 13th & Friday 14th July
Final Panel Interviews: tbc
For an informal and confidential discussion, to ask a question on any aspect of the appointment process, or for additional information, please contact our advising consultant Philip Nelson on 020 3590 9978 or via email at This email address is being protected from spambots. You need JavaScript enabled to view it.