You are here:  

News

Look Up! Project at HMP Northumberland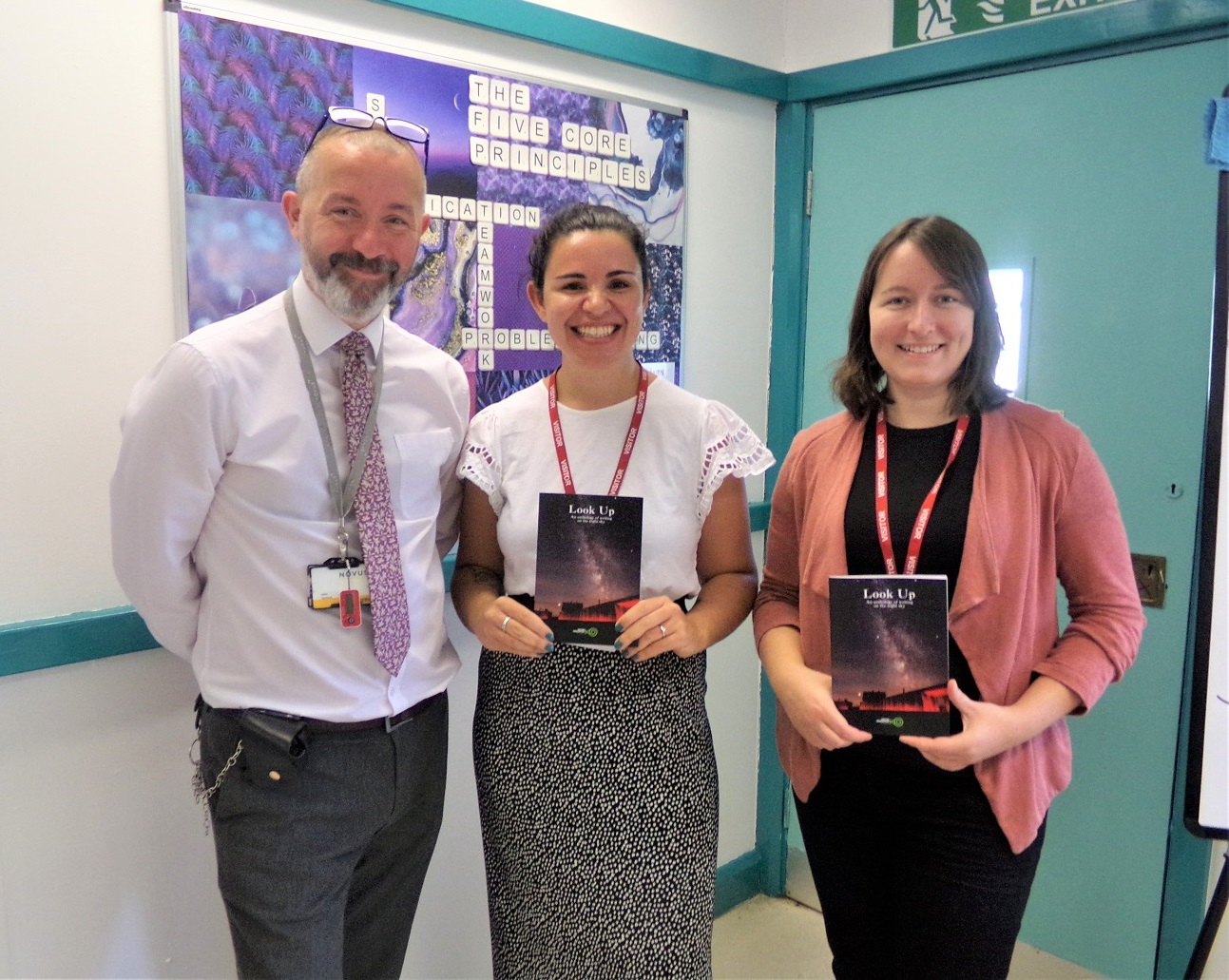 Look Up! Project at HMP Northumberland
31/08/2023
A project has been underway this year seeing Kielder Observatory astronomers and local creative practitioner Bridget Hamilton visit HMP Northumberland to bring the inspiration of the cosmos to residents of the prison.
Our charitable mission is to create opportunities for people of all backgrounds and abilities to experience moments of inspiration and hope through observing the cosmos. We believe directly observing the universe by looking up at night is the pivotal experience that sparks this learning and transformational moment, but we recognise that not all have access to unpolluted nights skies. Our outreach work in urban or deprived communities, and with other marginalised or vulnerable people, helps further our goal to share the awe and insight that learning about the universe can bring to everyone's lives.
The Joicey Trust has funded a pilot project to bring this inspiration of astronomy to the residents of HMP Northumberland located 10 miles north of Morpeth. Working with Novus, who provide education and support services to people in custody, and the education team at the prison, we arranged our first visits in March and May. Two of our astronomers, Finn and Ishbel, gave an in-depth cosmology presentation to two groups, taking learners on a tour to the far reaches of the universe. Response from the groups was enthusiastic with lots of in-depth questions, and interest in further sessions. We delivered two factsheet booklets written by our astronomers, on the topics of the solar system and the aurora borealis, for further independent reading.
Then, local creative producer Bridget Hamilton delivered a series of interactive workshops over six weeks to explore poetry on the subjects of stargazing and understanding our place in the world. The learners used creative writing to explore their responses to astronomy and put into words their feelings and hopes. In recent years we have explored a few different ways of incorporating the creative arts in astronomy learning such as photography, fine art, dance and creative writing. The infinite inspiration of our universe can catalyse beautiful art, and the creative world can be a more welcoming door into STEM learning for those who may have negative preconceptions about science education. This format also has the benefit of supporting literacy skills and collaborative working skills. What learners have said:
"My favourite activity was using the poems Bridget read to spark my imagination to write my own poems. The programme has given me something to look forward to weekly."
"Session four for me was my favourite; light - as I was taken back in time to a very happy memory".
The writings of the groups have been collated into a Zine, including a thoughtful poem by Bridget the summarises the experience, this is now in print and available at the observatory.
Finally, another visit from our astronomers Ishbel and Ellie will set the learners away with an array of resources for independent learning, book recommendations and helping the groups set up on Zooniverse. This is a portal that allows anyone to contribute to citizen science projects - where simple data analysis can help further our latest research in space science.
We hope to build on the work of this project to do further collaboration with Novus and at HMP Northumberland and bring the inspiration of the dark skies of Kielder and science education to new audiences. We'll leave you with a poem that was created for us by Bridget Hamilton, reflecting her time working on the project, we hope you enjoy it:
Taking the Stars Inside
with thanks to learners at HMP Northumberland
I collect the stars from Kielder Forest
driving two miles down a single-track road
to the observatory.
I fill my pockets,
fold hot stars into the pages of poems
and later, pour them into grey trays
to be searched for banned substances.
It depends on your block, they tell me.
Whether in those nights of frantic, broken sleep
you see floodlights or galaxies.
Sat around a table in a room lined with barbers' chairs,
we unpick constellations dot by dot,
drawing million-mile lines between them and us,
likening the universe to an hourglass
where we are all, I guess, doing time.
One man describes a night at camp
where the stars felt so close
it was as if they hung on strings.
Another, our resident philosopher,
describes knowledge as
a justified belief -
that the impact something makes
is what makes it real.
Like all of the astronomers before us,
these men are trying to find order
in the chaos.
And as we work, an oystercatcher,
unfazed by the barbed wire,
makes her yearly nest
in the drain outside the education block;
the chicks, the lads say
look like tennis balls with legs,
the eggs white
but speckled black, as if with interstellar dust.
I guess I thought
people who had experienced such darkness
might try to steal your light,
not knowing you can take it to them
and become brighter,
burning up as you enter
their atmosphere
And though very few would consider themselves free
And though when they watch the stars they are looking back
light years into their past,
there's a sense that it also gives them
a future
that is free
for them to imagine.